Triumph TR6
Year of Manufacture: 1872
---
Make:
Triumph
Model: TR6
Exterior Colour: Dark Blue
Interior Colour: Black
Registration: UXJ 231L
Transmission: Manual - 4 Speed with Overdrive
Year of Manufacture: 1872
Mileage: 23,000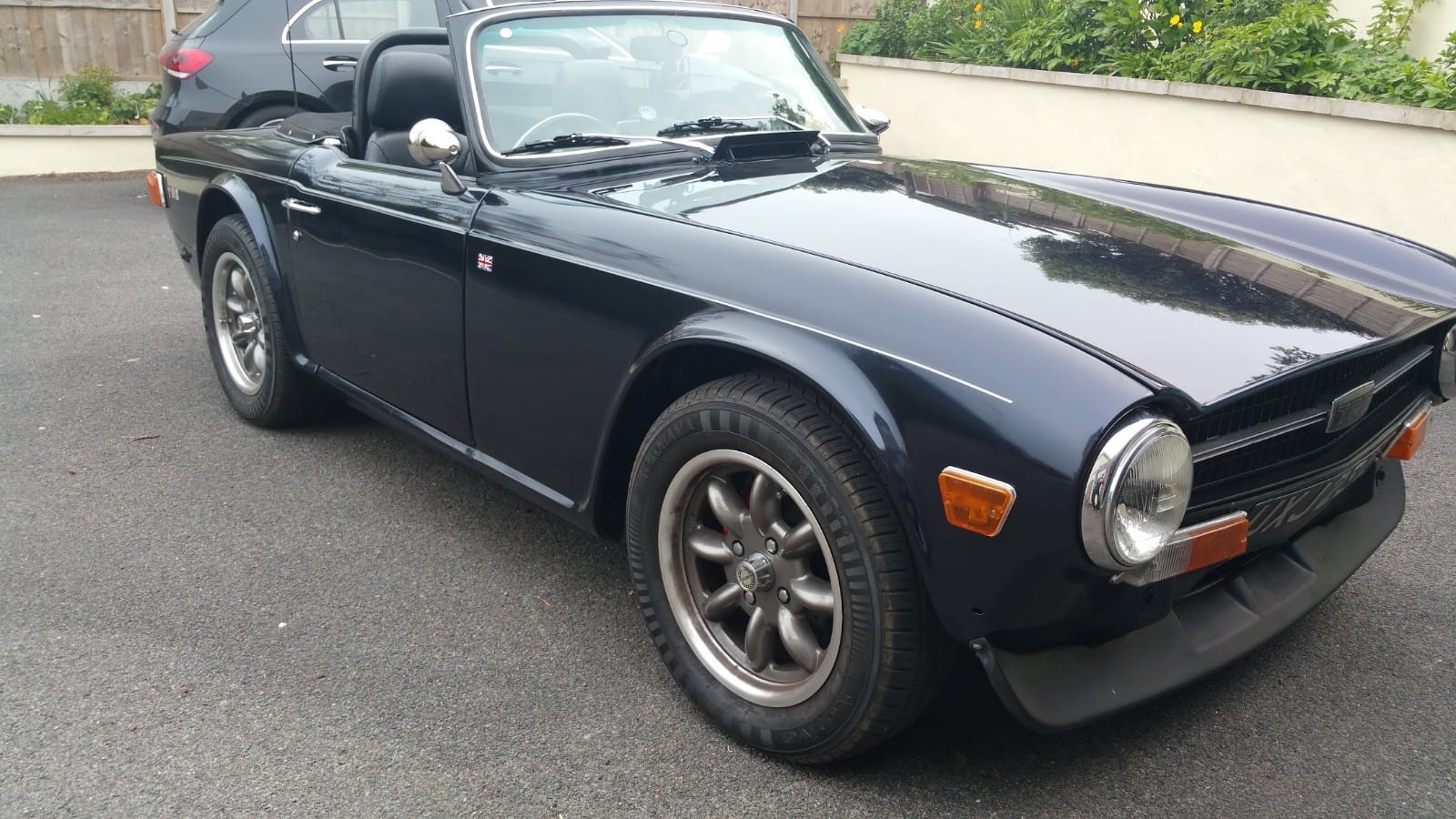 Description
---
The TR6 has been a regular sales feature in our stock over the 15 years we have been placing cars we like with people we like. Some of the TR6's have been standard cars but most have been improved to make them their best self utilising the modern engineering skills and tolerances to engineer a superior TR6
In this instance we have all the components of a pretty outstanding car. An original CP chassis number is the 'one to have'. However this car is a whole lot more than that. If Triumph had access to the technology of today this is what they would produce.
Based around an outstandingly solid chassis and body with a huge history file where various owners have evidenced their preservation of the TR6 this car came into the ownership of my longstanding customer and friend Tony Luffman back in 2018. Tony is an outstanding engineer who in retirement makes his chosen cars the best they can be. He then drives them for a period of time to perfect them and I then sell them for him to free up garage space for his new projects. His focus is usually around the end to end drivetrain and making TR's go as well as they look but always better than they ever did from new. There will always be comfort features to his work because he is a tall man.
This superb driving TR6 has had its chassis pick ups strengthened and the entire drivetrain improved and matched to ensure that the power derived from the engine upgrades feeds down the drivetrain to give a thrilling driving experience. As an objective he has achieved that and some. This is arguably the finest driving TR6 I have had the pleasure of piloting.
A memory stick in the history file documents the build of a dyno tested 175bhp 6 cylinder TR engine. The gearbox and overdrive is also uprated to handle the power from the beautifully balanced engine. The differential and driveshafts have all been uprated to ensure power transfer doesn't find a 'weakest link'. Rather these improvements all work in harmony with induction through a set of triple DCOE 45 Webers fed by an uprated Bosch fuel pump with exhaust achieved equally efficiently through a heat wrapped free flowing exhaust system. Ignition is from a multi programmable 123 system with 3 dash modes to choose from. Cooling from uprated alloy radiator with auxiliary fans to ensure cool running. Drivetrain wise nothing has been overlooked with all the invoices supporting the achievement of a driving TR sensation. The suspension and brakes have also been improved to slow the car as best it can and make the car compliant and predictable when driving in a spirting manner.
In the cabin you have uprated seats to suit a taller driver and a full suite of dials and switches to manage the driving characteristics of this classic supercar. The car literally wants for nothing to engage an amazing driving experience.
This is not the cheapest TR6 on the market. BUT you couldn't make this car for less than £50k. So, at £32995 it represents an opportunity to enjoy an 'on the button' thrilling TR6 in the coming season with a warranty and part exchange option should you need it.
Tony, you are an outstanding engineer. Thank you for once again allowing us to market one of you best of bread TR's. It is our pleasure to do so.