Jaguar XK140 FHC
Year of Manufacture: 1955
---
Make:
Jaguar
Model: XK140
Exterior Colour: Gunmetal Grey Metallic
Interior Colour: Red and Black
Registration: SOM213
Transmission: 4 Speed Manual with Overdrive
Year of Manufacture: 1955
Mileage: 90,111
Chassis Number: 804394
Engine Size: 3400cc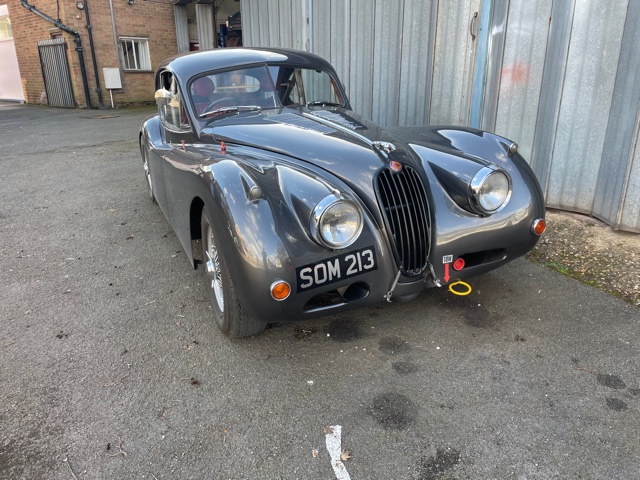 Description
---
Some cars live a very straightforward life giving service and pleasure to their owners. Occasionally others are pressed into competitive action and live a life that is anything but straightforward. Such a car is SOM213. A UK RHD FHC car that first took to the road in the autumn of 1955. SOM213 served just 1 owner from October 1955 right up to January 2001.
Things changed for SOM213 when my old friend Trevor Groom took ownership and transformed the car into a highly competitive championship winning car. Modified 'yes' of course. However FIA HTP compliant with papers valid until the next renewal in to 2026. Myself and Guy Broad competed against Trevor in the first XK race series in the early 2000's. Indeed Trevor and I took our ARDS racing license at the same time on a cold spring day at Mallory Park. From that point the car was improved and improved mechanically to make a car that competed at Le Mans Classic, Goodwood and won the JEC series for cars of its type on several occasions.
So what now for SOM213? Under the present owner custodianship the car as received substantial fettling to improve the car. It sits gleaming in the sunshine benefitting from a recent repaint in classic gunmetal silver grey. It can be driven in all conditions. It doesn't like the stop start of town traffic but it will do so if you must. This achieved and significant XK needs to return to the track again. It wants to go back to Le Mans Classic. It should be representing the leaping cat at the upcoming Goodwood Members meeting and it would be a championship contender in the new HSCC 50's sportscar championship, FISCAR, or Equipe 50's series.
So does the old car still have the 'minerals'? Can it still perform as it did without the need to spend thousands of pounds to make it competitive. If you are a series buyer for a car that can be the best of its type then we will work with you to establish that SOM213 does still have the waft and where with all to be at the sharp end of the grid in 2022. How will we do that? We will take the car to a rolling road and see what horses can be persuaded from the 3400 straight 6 twin cam XK beauty
If you want a competitive car then that's the way to do it. Come and see the car. Agree it's what you want and subject to the outcome from the rolling road we will get SOM213 back on the track where it belongs.
Price is absolutely the subject of discussion