2001 Jaguar XK-R Convertible
Year of Manufacture: 2001
---
Make:
Jaguar
Model: XK-R
Exterior Colour: Silver
Interior Colour: Dark Grey
Registration: X887 NGJ
Transmission: Automatic
Year of Manufacture: 2001
Mileage: 39,800
Engine Size: 4.0
Fuel Type: Petrol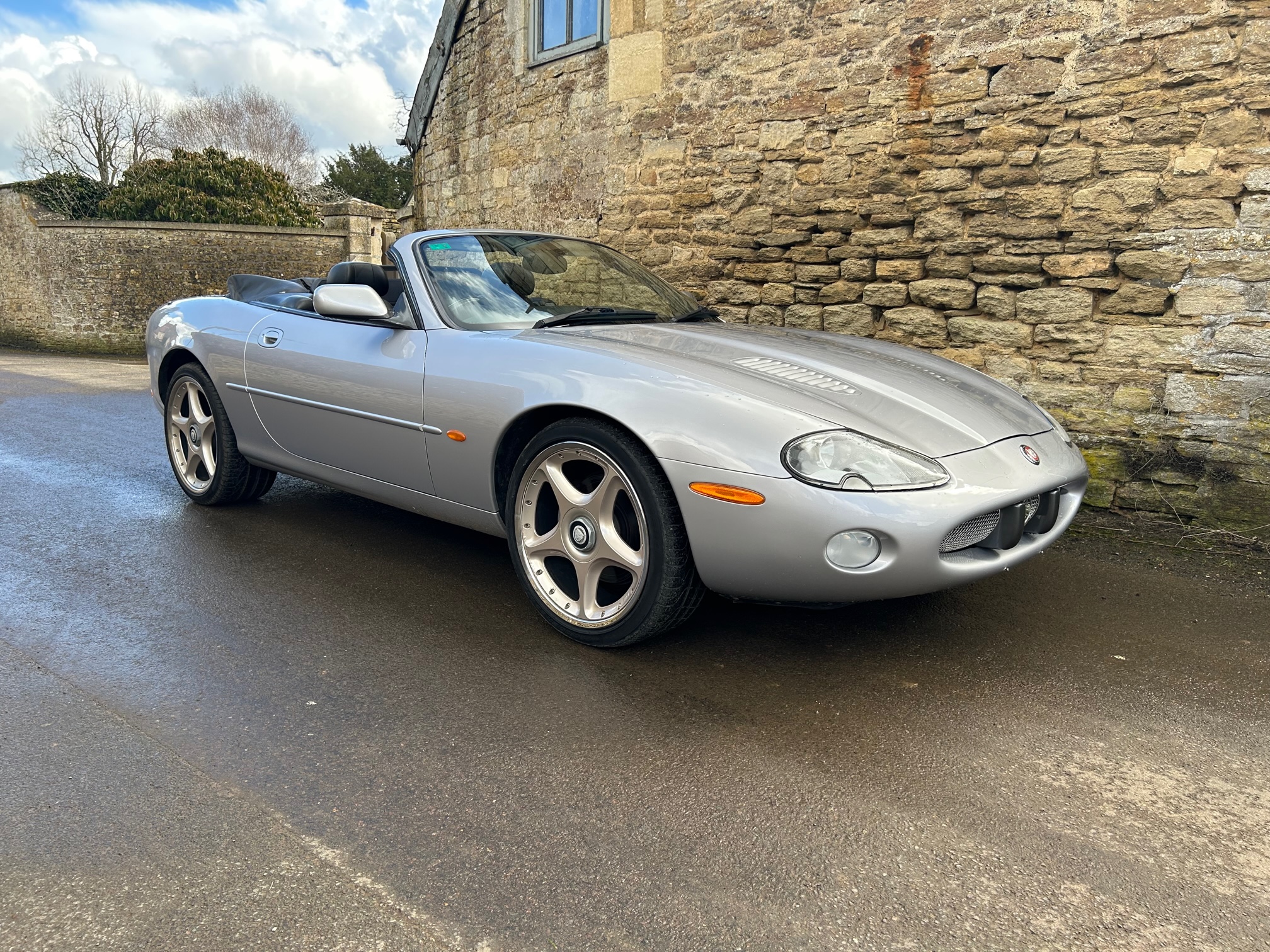 Description
---
The XKR is one of my favourite cars and look 39000 miles in 22 years!!!!!. The last XKR I owned was driven for 5 wonderful years and 70k miles and when sold I did indeed regret it. So the chance to bring a very low mileage convertible supercharged monster into our stable was too good to resist. 370bhp and 155mph top speed only tell a fraction of the story of what owning one of these grand touring sports cars is like. Unlike its predecessor the XJS the XKR has the ability to be a sportscar with fire breathing power and a 'sport' mode that leaps into life as a good cat should but also a refined grand touring potential to cruise hundreds of miles effortlessly. Add to that convertible status that is so good you would be hard pressed to realise you were in a soft top at all and this XKR gives you everything superb product of Jaguar should.
The XKR has clear lineage back through XJS, E Type to XK and when you have driven all derivatives it is clear to see where that heritage line has derived from. Every bit a Jaguar the XKR in convertible guise is pretty much the perfect classic car for todays motoring.
What's it like to drive? Climb aboard and surround yourself in leather and wood. The sporty green shade of the dash pays homage to Jaguar Racing in F1 at this time. The dashboard is a mass of purposeful gauges and classy switches with every need represented with a button close at hand. It is easy to find the perfect seating position with adjustable steering column and electric seats which are heated for additional comfort.
Turn the ignition key and the V8 4litre bursts into life with a throaty yowl from the stainless steel sports exhaust. That throaty rasp is with you throughout your journey and really heightens your senses as you depress the throttle to engage warp drive. The supercharger spools up and lift off is achieved with ease as the R accelerates to 60mph in just over 5 seconds and keeps on going to 155mph apparently. I say apparently because the car is happiest sprinting around and staying within sensible confines of modern motoring. Yes, it will 'pull your face off' but you rarely feel the need to do that because 'normal' driving is so satisfying. Cruise control, air conditioning, trip computers etc etc. 'Its fully loaded' as they say.
Outside the bodywork is pretty much prefect. The 20" Paris alloys wheels have the odd mark on them which I can fix. The car is shod with excellent Pirelli tyres and whilst the MOT is to June 23 I will put a new MOT on the car for the new owner. This car has led a cossetted life with the last 4 years spent in the warm climate of southern Spain. Looking at the condition of the soft top I would suggest it has hardly been raised at all with the car used for pleasure in the sunny climate Spain is. The history file is complete with dealer book pack and documents dealer services and specialists. Various other services and MOT's from Spain and the UK hint at this cossetted life the car has enjoyed.
When you climb aboard and begin a journey in the XKR you feel like you are driving a £120k sports car not a £20k one. This car is a modern classic. Enjoy the car and keep the miles sensible and the car will be an appreciating classic in my view. On my journeys in the car it is already the source of admiration and respect from other road users and members of the public. ULEZ exempt too with low road tax as well.
All in all a really superb example of this appreciating classic
£19995