Aston Martin DB9
Year of Manufacture: 2004
---
Make:
Aston Martin
Model: DB9
Exterior Colour: Gunmetal
Interior Colour: Grey
Transmission: Semi automatic paddleshift
Year of Manufacture: 2004
Engine Size: 5935cc
Fuel Type: Petrol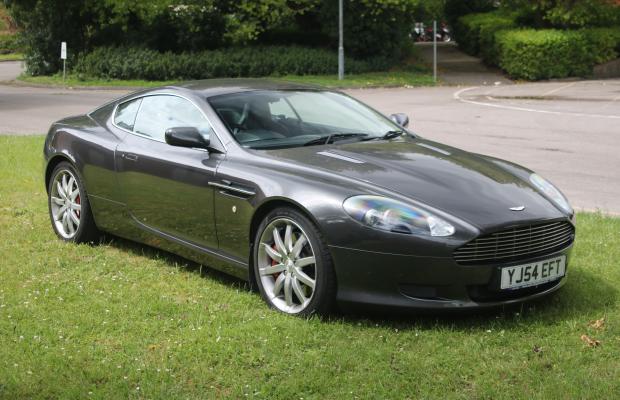 Description
---
First registered through JCT600 the Leeds based Aston Martin dealer with services by them or Stratstone at 2287miles, 4074miles, 8311, 13573, 19478, 23701, 25388, 26342, 28939, 33165, 35451. 41874. We have replaced brake discs, pads and tyres to make the car on the button and without fault mechanically. The paint is unmarked and perfect.
Our passion and emergence as a Retro Modern car dealer dictated we had to have a DB9. They represent the very essence of  a car that is sure to become a modern classic if it isn't already. Having serviced a customer car from 30k miles to over 100k miles we have learned how to service them and to understand that the DB9 is a supercar you can use every day and it will not involve you emptying your bank balance to do so.
Of all the cars I have had the privilege to own many of them 5-10 times more expensive than this DB9 it is the DB9 that I would describe as the best 'occasion' I have ever had the pleasure to drive. That is how this car makes me feel. When I look at it stationary as an enthusiast I cannot see an angle to the car that doesn't look stunning. Fire up the V12 and the sound is sensational. The engine with its hand built named builder etched on the top of the motor is simply a jewel of a V12.
Slip into the drivers seat and there is acres of leather and suede complimented by wood veneer. Turn the key and press the 'start' button and the V12 fires into life. You just have to smile every time the car starts up. This is an 'occasion' and it's about to get better as you select 'drive' and massage the throttle. Around town the DB9 is as gentle as a pussycat and simplicity itself to drive. However the moment you can floor the throttle on an open road the car leaps into life and the V12 starts to show what 5.9 litres of Aston Martin brilliance can deliver. Then you flip the paddle shift mode and the car gives you control of an automotive supercar that is the equal of pretty much any car you will drive. In paddle shift mode you can rev V12 and the noise it makes is quite extraordinary. You just have to smile and the smile continues wherever you are going and whatever you need from your Aston Martin. This is a car that keeps on giving never complains and as proven by the car we have serviced for 70k miles doesn't cost the earth to maintain.
When I am old and chatting about the cars I have owned to my grandchildren the Aston Martin DB9 will be one of the very few cars I will describe as 'truly brilliant'. I can say no more. Every car enthusiast lucky enough to own one is indeed a lucky chap!