Jaguar XK120 FHC
Year of Manufacture: 1953
---
Make:
Jaguar
Model: XK120
Exterior Colour: Silver
Interior Colour: Red
Registration: 779 XVS
Transmission: 4 Speed Manual
Year of Manufacture: 1953
Mileage: 20 Miles since Restoration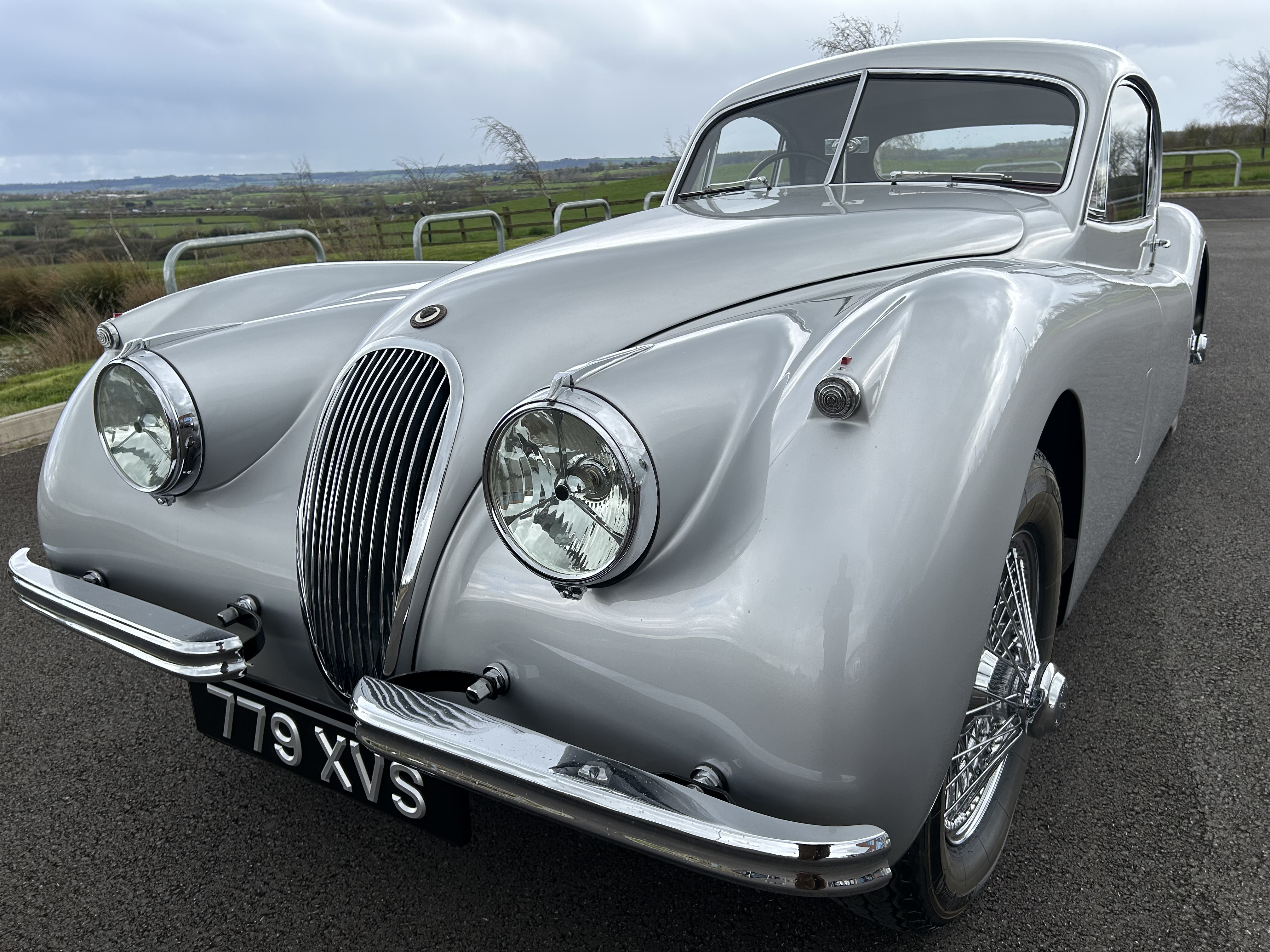 Description
---
I believe sincerely that the XK120 fixed head coupe is the most beautiful production car ever made. Think about it. In May 2023 this car is 70years old and just look at those amazing sweeping lines. It's a stunning thing. In 70years the car has stayed together with the same engine mated to the same gearbox sat on the same chassis with the same body. Even the cylinder head matches the Heritage Certificate.
Despatched to Germany in 1953 as a left hand drive car returning to the UK in the 1980's and into the present ownership some 40years ago. Since then the car has been converted to right hand drive and restored body off chassis to perfection. Continually improved and maintained by London specialist and then a local restoration business in the north east up to today's date.
The car sits as arguably the nicest body finish on an XK120 fhc I can ever remember seeing. The door gaps are perfect and everything looks 'right' in respect of the body work. The silver paint work is sensational. Underneath the car is as clean as the visible exterior. Pretty close to perfection. In the cabin one can see that the car has been restored 'right' too. The wood, leather, roof lining are all best of the best. Gauges all work as they should. To look at the car is hard to fault.
Mechanically, we have the original block and head restored engine mated to the original gearbox. The car starts and runs well and keeps good oil pressure.
What might we do to make the car it's best self? The car has travelled only 20 or so miles in 40 years. It was recently MOT'd and has been serviced by a marque specialist. BUT the car needs to be driven and improved. So we have the perfect opportunity for a new owner to have the car made right for them. Upgrades to brakes, cooling, seating position, gearbox are all possible. Essentially a prospective buyer needs to come and see the car, love it and make it their own.
The great news is that the structure of the car is without fault and as such it's only the personal detail things that are needed to make the car your stunning XK120FHC.
The XK is supplied with Heritage Certificate and a selection of bills for work done to the car. This car has literally not been seen for 40 years and is a really excellent opportunity to enjoy the very best of 1950's Jaguar
The price depends on what you want to do with the car. So ring for a chat