MGB GT V8
Year of Manufacture: 1974
---
Make:
MG
Model: B GT V8
Exterior Colour: Dark Blue
Interior Colour: Black
Registration: GOC171N
Transmission: 5-Speed Manual
Year of Manufacture: 1974
Mileage: 95,000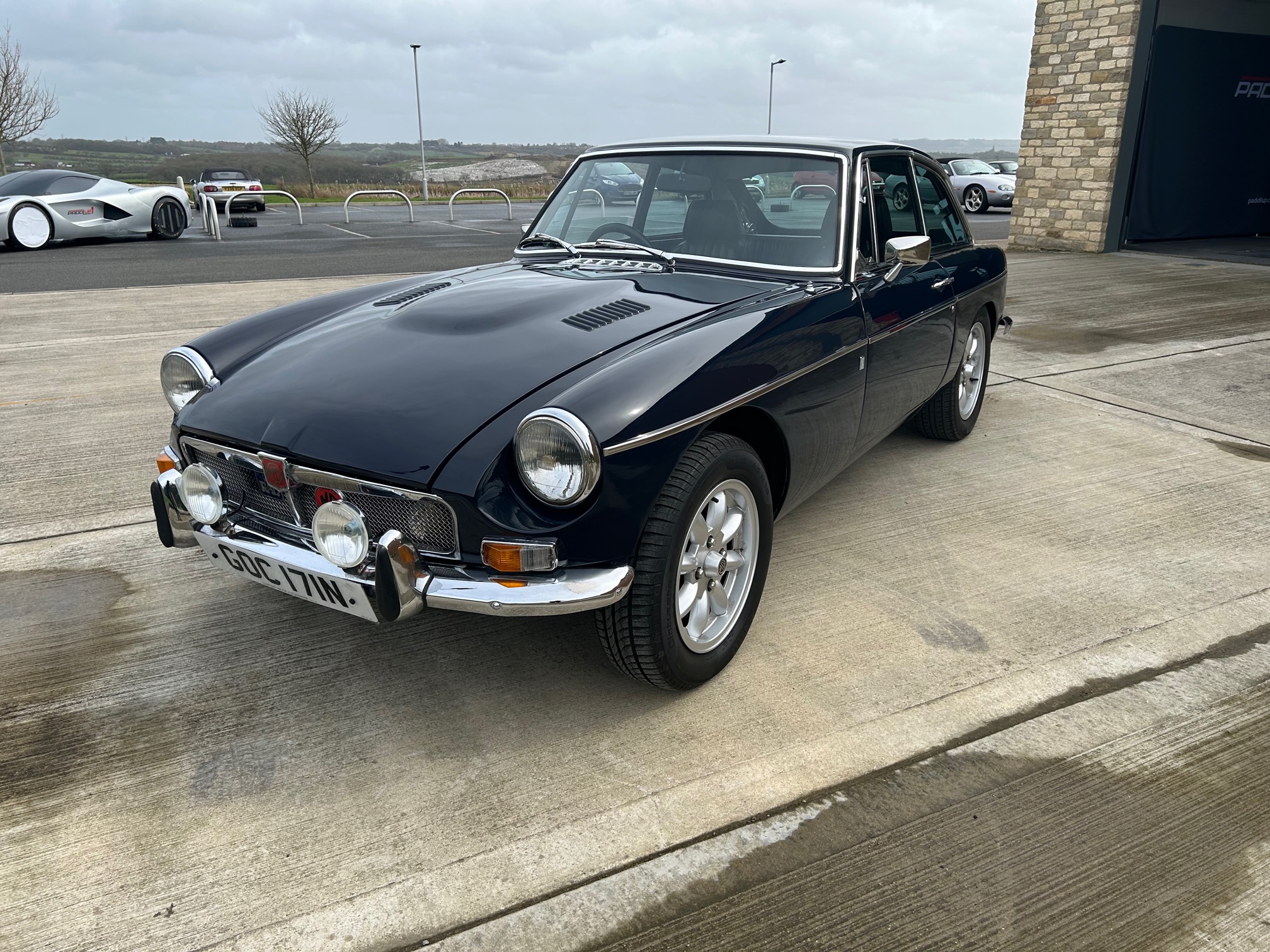 Description
---
Every so often a car comes into our collection of 'cars we like' that makes you go 'wow'. A car that makes you feel like you are dancing with the devil. A car to be respected or it'll bite you in the bum and it will hurt. And yet respect it and you will be endlessly rewarded with 'smiles' of fun driving
When the present owner of 35 years (yes thirty five years) took a 138bhp MGB GT V8 of 1974 vintage and turned it into a fire breathing monster of 4.6litres and some 250bhp you have to tip your cap and salute an enthusiast owner who has literally thrilled himself driving this car to a point where he is no longer able to do so because of his advancing years. This MGB has been well used and extremely well maintained. The present owner has taken the car around the clock since 2006 and I would suspect he took it around the clock for another 100k miles from taking up ownership of the then 5 year old MGB.
When I collected the car I thought the 80 year old owner was a 'hero' but when I've read the history file and driven the car I realise that Mike is a true true enthusiast and I genuinely tip my cap to you in respect.
So to technicalities. Thoroughly restored bodywork by MG Workshop with subtle tweaks to accommodate for example the wider minilite wheels and an MGRV8 louvered bonnet. The bodywork is excellent. There is the odd chip and mark but structurally the car is superb. I have had the car on the ramp and photographed it underneath so you can see just how well prepared the car is. Panel fit etc are all very good with no usual rust spots on the car. A rock solid rust free car
Rover 4.6litre engine with stage 3 cylinder heads. Induction via Omex fuel injection and twin Bosch ignition coils with exhaust through bespoke stainless steel exhaust manifolds to a 2" bore exhaust. This combination giving 252bhp and a sound that any classic car enthusiast would adore. What a roar! Super smooth and slick 5 speed gearbox to limited slip differential and independent rear suspension. Front suspension from MGRV8. Uprated front brakes and rear disc brakes too.
The car goes like a rocket and sounds like it is too, But it stops pretty well too. For sure you need to have your wits about you. I can imagine if you floor the throttle in the wet on a corner you are going to be visiting the scenery rear end first and feeling like a bit of a silly Billy. But that's the point really. You can meander along at 50mph and it's a perfectly civilised occasion. BUT when you want the horses to pull you along they are there and they are loud and quite astonishing to control. You really do have a tiger by the tail with this car.
So it's a wild thing BUT it keeps its cool too with 3 cooling fans mounted to the performance radiator all fed by an uprated 65amp alternator
In the cabin there is a wooden dash and door cappings that might not be everybody's taste but are just superficial things. The seats are correct black leather and the roof lining is nice and bright with no damage to it. Several auxiliary switches operate the cooling aids. The heater in the car works nicely and to help you see in the dark Bi Zenon headlights are fitted. The doors lock as they should and the car has an alarm immobiliser and a tracker too,
Documentation with the car is extensive and tens of thousands has been spent making this car arguably the best uprated MGBGT V8 money can buy today. Most certainly you couldn't build this car for £50,000 today
In summary, same owner for 35 years, outstanding bodywork and a powertrain to set your pulse racing. A pussycat that turns into a fire breathing tiger by the press of a throttle peddle. Keeps its cool and shows all the signs of giving a new owner another 100,000 miles of pleasure with all the work done.
History file is vast with maintenance right up to date and MOT's every year though they needn't have been done.
The car isn't the cheapest BUT if you want the best driving V8 MGBGT then you have found it
£32995