Triumph TR2 Restoration Project
Year of Manufacture: 1954
---
Make:
Triumph
Model: TR2 Competition
Exterior Colour: Old English White
Interior Colour: Red
Registration: RHP 552
Transmission: 4 Speed Manual with Overdrive
Year of Manufacture: 1954
Chassis Number: TS431-O
Engine Size: 1991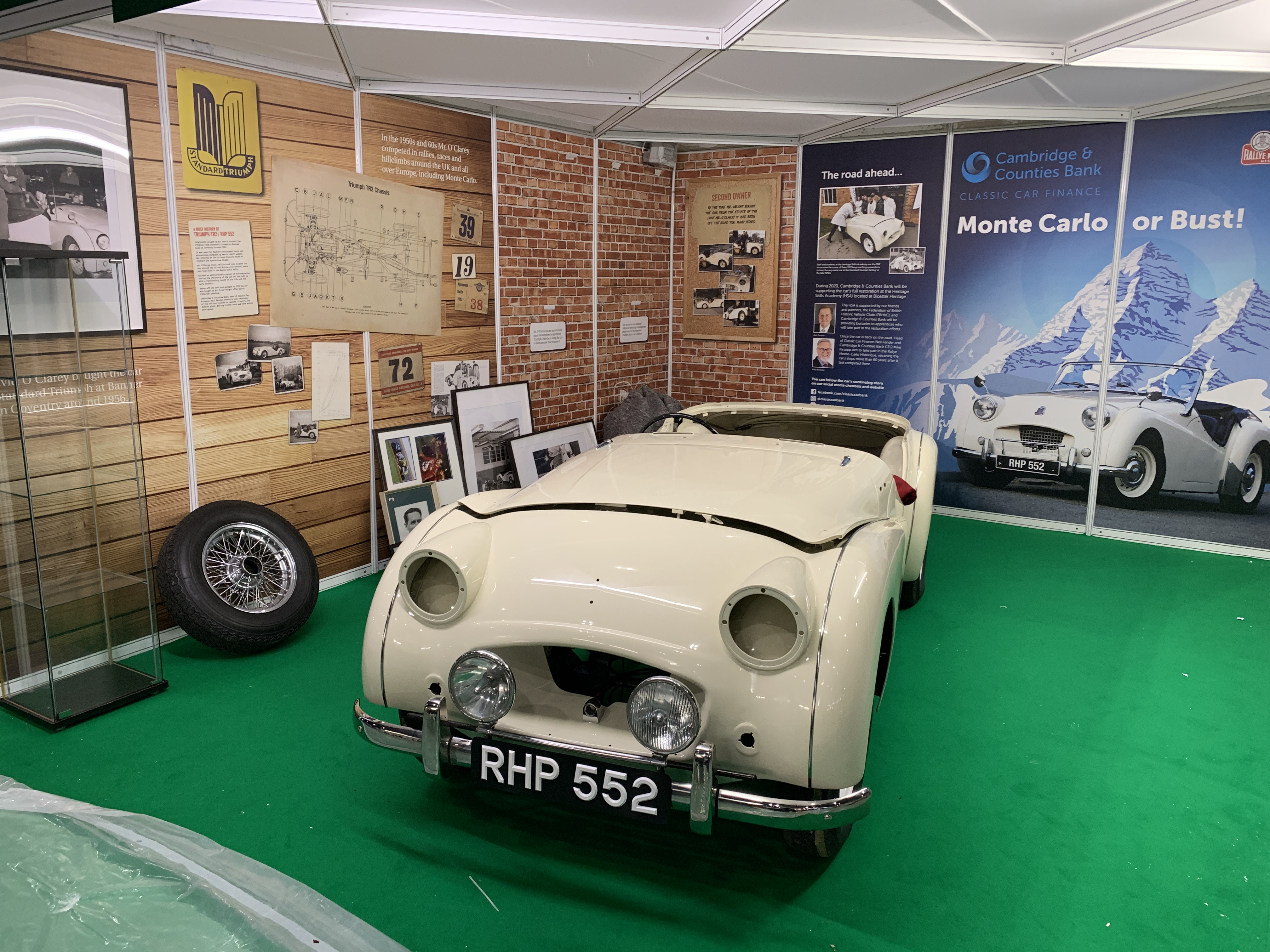 Description
---
Those who know their Triumph history will recognise that RHP552 was likely to be a significant piece of TR history. RHP and SHP numbers where frequently 'works' vehicles. That is indeed the case here. RHP552 was Initially introduced into the 'works' Development Dept and used as a development vehicle in the very early days of the TR2. The car is photographed in the development department and with engineers being introduced to the TR2 by lead engineer Mr O'Clarey. The relationship with RHP552 and O'Clarey is where things get really interesting and relevant. O'Clarey in addition to being a lead Triumph engineer and tutor was also a competitive race and rally activist. A man of Coventry and also a meticulous 'attention to detail' engineer. O'Clarey took the car from the development dept into his own custodianship and proceeded to document his ownership of the car. When we say 'document' we really do mean in detail document. Accompanying this car is the most comprehensive history of any car I have ever had the pleasure of reviewing. Every rally, hill climb and race is documented in detail. Regulations, results, news paper articles, trophies, passports, duffle coat, suitcase adorned with overseas travel stickers all in the name of O'Clarey. Small handwritten note book of mileages completed and economy calculations. They all make a fascinating history of the car. Also included is incredibly rare internal memo's and documents on the TR2 addressed to O'Clarey. It really is an incredible history of this cars 1950's &60's life.
Of course all of the above make the car very eligable as a piece of period competition history. Pretty much any event would want to see this rare car.
We purchased the car some 3 years ago. It was running and driving. However to do justice to the car we decided to strip the car to bare metal and rectify all structural issues. This took a long time and there is a photographic history of the work undertaken. Hundreds of man hours were invested in bodywork to make the car a superb structural car. Now painted in OEW we have reached a point where a decision has to be made. Road car, race car, rally car? Defined as taking a piece of Coventry history to classic show as a road car OR racing the car at Goodwood, Le Mans Classic or Mille Miglia OR preparing the car to be a Monte Carlo, Le JOG rally car
This is where we presently sit with RHP552. We have the original engine stripped and ready to be rebuilt. Might be 100bhp standard or 175bhp race or 135bhp rally specification.
We are looking for a new owner to complete the car to their perfect specification. Anything is possible with RHP552. A surely not to be missed opportunity to shape your perfect TR