Triumph TR2
Year of Manufacture: 1955
---
Make:
Triumph
Model: TR2
Exterior Colour: Yellow
Interior Colour: Black
Registration: SZ 2859
Transmission: Manual
Year of Manufacture: 1955
Engine Number: SZ2859
Chassis Number: TS8628
Engine Size: 1991cc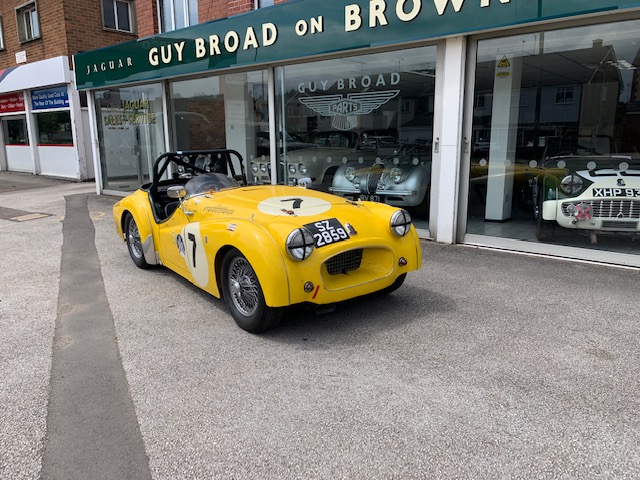 Description
---
Our race prepared TR2 is not a car for the shy and retiring. Presented in Ecurie Francorchamps Yellow the car has been easily recognised on race tracks all over Europe for over a decade. Originally a right hand drive car manufactured on the 6th of  October 1955 in BRG with red vynide trim the car performed its road duties up until Mr Brian White purchased the car in 2008. At that point the car was fully restored for racing with FIA papers on file dated issued 16/9/09. The car competed successfully in the UK and Europe. I do remember racing against the canary yellow TR rocket in around 2010 in the Woodcote Trophy at Silverstone. The car was a very quick and competitive drum braked sportscar. Eligible for Mille Miglia, Le Mans Classic, Woodcote Trophy, Equipe 50's and Goodwood. I sold my ex works TR2 some years back and still had the 'itch to scratch'. This car came for sale and having driven it for some 20 road miles on a freezing cold December day back in 2016 I couldn't get the smile off my face and bought the car. To that point it had been professionally maintained and fully uprated. The engine was and is a really punchy TR unit delivering circa 170bhp mated to a race prepared drivetrain and Alfin drum brakes all around. That is exactly as it is today. Needing a small spanner check and the car will be track ready.
Last raced by us in the Goodwood Members meeting 2018 where it once again finished in the top 10. With much of our focus on my sons modern racing we have decided to sell the TR2. It has current FIA papers to 2029 and is pretty much on the button and ready to go. Surely the most cost effective way to get an entry to the very best events. Sold with lots of spares and plenty of advice if needed.
£39995