Triumph TR250
Year of Manufacture: 1968
---
Make:
Triumph
Model: TR250
Exterior Colour: Blue
Interior Colour: Beige
Registration: WGU 543F
Transmission: Manual
Year of Manufacture: 1968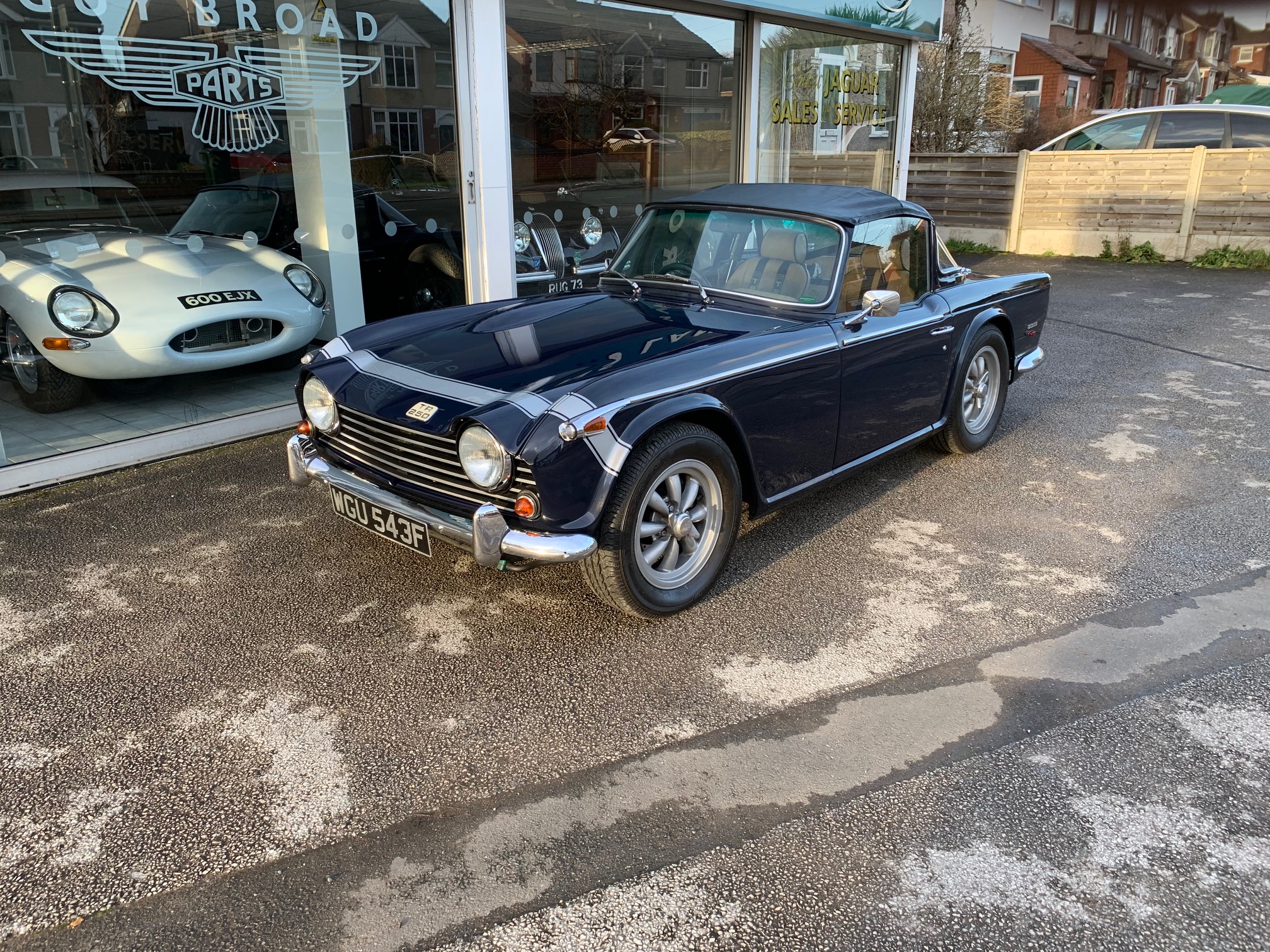 Description
---
The TR4 was a game changer for Triumph. Michelotti styling blended with the rugged established chassis and drivetrain developed through TR2-3A delivered a stylish and capable sports car to thrust Triumph into the 1960's. Then the solid rear axle was replaced with independent rear suspension that further evolved the TR series of cars. As the 60's progressed Triumph sought to further improve the TR and the 5 and 250 were born.
Using the smooth and powerful straight 6 engine mated to Lucas fuel injection in UK cars and twin SU and Stromberg Carburettors for the overseas markets this final iteration of the Michelotti design was well received. Up to the present day and the 6 cylinder TR5/250 has become a very desirable car to own.
Yes, there were issues with the Lucas FI and yes the 2 carburretor version exported didn't fulfil its potential. That was then. This is now. Today there are TR Specialists that have understood all the issues of the 5/250 and sorted them. Here is such an example. A TR250 imported  back to the UK and the subject of a total and comprehensive body off chassis rebuild. Not a penny has been spared in making this the best TR250 money can buy today in the UK. Perfectly restored bodily with a strehghtned and modified chassis to enable all the very best performance pieces to be fitted in harmony to this wonderful exhilerating 6 cylinder work of genius. Had Triumph had the time and engineering skill back in the day this is the way the TR5/250 would have been.
No achilles heels to this car. Just a superbly engineered cosmetically flawless TR that guarantees a fabulous driving experience blending that rugged TR feel with a stunning balanced 6 cylinder unit fed by triple weber carburettors mated to an uprated drivetrain to ensure the car goes and stops as well as it looks.
A simply huge and comprehensive documented restoration detailing this amazing restoration. IF ONLY THE BEST WILL DO THEN YOU HAVE FOUND IT. This car couldn't be built for this selling price. Not the cheapest BUT absolutely the best of its kind that you will find anywhere
£49995