Triumph TR5
Year of Manufacture: 1968
---
Make:
Triumph
Model: TR5
Exterior Colour: Signal Red
Interior Colour: Black with Red piping
Registration: DTU 708F
Transmission: Manual - 4 Speed with Overdrive
Year of Manufacture: 1968
Mileage: 5,900
Engine Number: CP2033E
Chassis Number: CP1812
Engine Size: 2500cc
Fuel Type: Petrol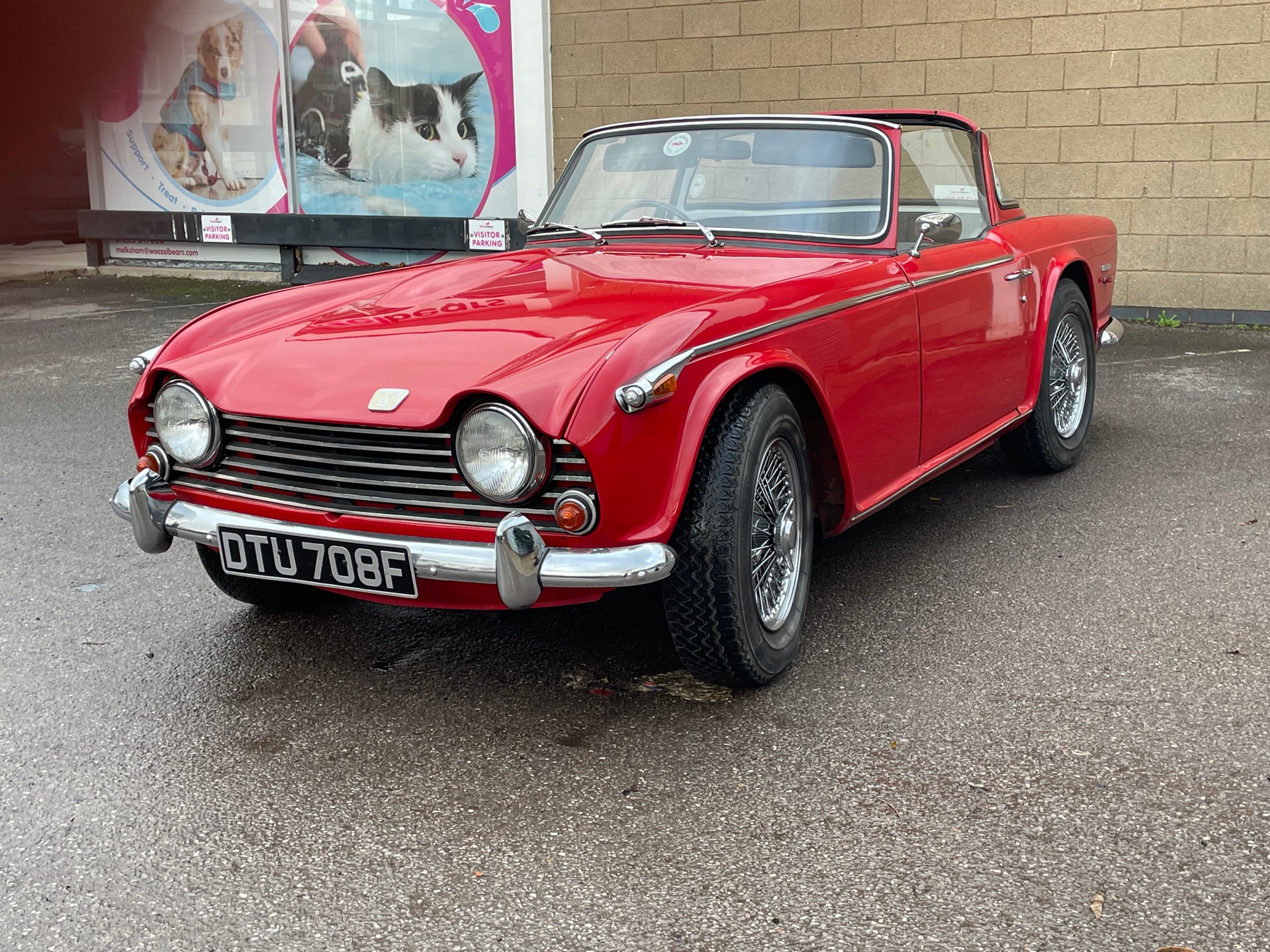 Description
---
Description: First registered in May of 1968 and then restored over 10 years returning to the road in 1996 our TR5 is a rare car in 'on the button' condition, serviced and ready to enjoy in 2022.
The latest owner has enjoyed the car for the last 17 years and is only the 3rd owner of the car. During his 17 year custodianship the 5 has been cherished and used on dry days only with limited mileage in recent times due to the owners advancing years. Now in his 80's he has decided to pass the baton of ownership to a new owner.
We are proud to offer this car for sale and can advise the following.
Structurally the car is in excellent shape with no corrosion on the body or chassis of the car. Mechanically the car drives as it should and the engine retains excellent oil pressure. The 5 started first time and drove very nicely on our short test. Gears engaged as they should and so did the overdrive on 2nd, 3rd and 4th gears. If you want an original TR5 to drive and enjoy then this car is a candidate
The car has the very desirable original surrey top with the 'hard' centre section and frame for the soft top too.
What could we improve? The car was restored and completed in 1996 and over the following 25 years has been used and enjoyed. As such there are a few marks and signs of wear to the paint. A really good polish mop would make the car sparkle again. However, the new owner may wish to consider a glass out respray sometime in their ownership. Indeed we may be able to perform this task for a new owner. Personally, I would drive the car fast and hard and enjoy!
In conclusion this is a car that has a lot to commend it. 3 owners from new with long term ownership by the latest owner, mechanically excellent with surrey top. Presenting in red with chrome wire wheels and sold with a fresh MOT make DTU708F a car to consider if you want wind in your hair yet practical motoring in this Triumph flagship TR5
The price will be dependant on how a new owner wishes to take delivery of DTU. Freshly painted or as is. So, ring for a chat with Neil to discuss
Offers Welcome