Triumph TR5
Year of Manufacture: 1969
---
Make:
Triumph
Model: TR5
Exterior Colour: Red
Interior Colour: Black
Registration: XPC294G
Year of Manufacture: 1969
Engine Number: CP2798HE
Chassis Number: CP2715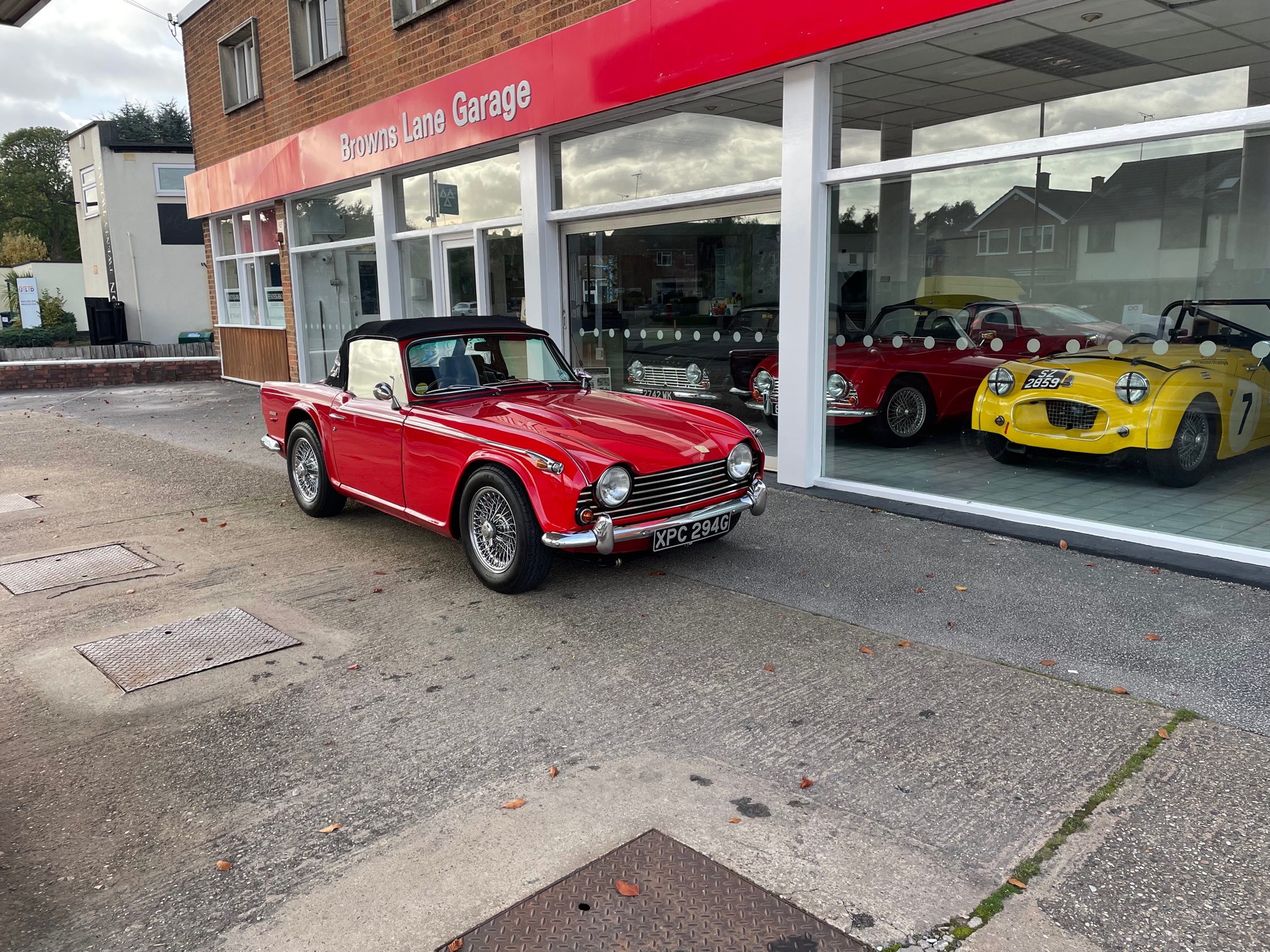 Description
---
The TR5 is arguably the most desired of all of the TR range of cars. The transition car from TR4 into TR6 the 5 has that gorgeous blend of the Michelotti styling and that so very sweet 6 cylinder 2500cc engine that was to power many of Triumphs models through the 70's.
Uber rare and rarely seen on the road the TR5 presents a Triumph journey into the rarified air of 'exclusivity' normally afforded more upmarket brands of Italian and German parentage. But please don't mistake the TR5 as being a car exclusive because of its low volume production. These cars and this car in particular are capable sports cars that will leave most Healey, Jaguars, Porsche and Mercedes in its wake based on engineering performance and brut power. When one is looking in the £50k price bracket there is nothing I can think of that will offer this level of performance, reliability, exclusivity and be such a solid investment as THIS TR5.
I emphasize the word 'THIS' in the previous paragraph because this car is something quite special. Restored some 10years ago by the hand of Tony Luffman a man who knows how to engineer a TR XPC294G is magnificent piece of TR upgrading. Working with local to him specialist Revington TR, Mr Luffman utilised decades of competition improvements originated from Neil Revington. The engineering is fully documented with suspension, brake and full polybushing of the car. The drivetrain see the fast road 6 cylinder engine which is super smooth and so willing deliver a dyno sheet proven 180bhp to the rear wheels through uprated competition overdrive and differential. The uprated fuel injection is managed by an electronic control unit management system that makes the car a TR sensation to drive.
In the cabin Revington leather competition seats hold you firmly in place as you apply warp factor drive from the 180bhp. Uprated heater keeps you nice and warm when you have the soft top down OR you can utilise the full Surrey Top system supplied with the car to give arguably the best combination of Surrey rear section and soft top roof. Competition chrome wire wheels shod with Avon CRZ tyres give the maximum grip but allow a controlled informed performance drive. Alternatively you can meander along and enjoy the sensational sound of the straight through exhaust that gives of a magnificent 'thrasp' of an exhaust note. Truly a car for all seasons and all opportunities a sporting driver might encounter.
The TR benefits from an immobiliser and in car entertainment BUT I doubt you will want the radio on when you are driving this car. A fully documented history file accompanies the car too. I have known this car for nearly 10 years and it is my pleasure to drive it and and enjoy it whilst finding the right new owner for what has to be the best driving TR5 on the market anywhere on this island. There are more expensive and less expansive TR5's on the market today. BUT there will not be a 'better' driving car on the market today
£49995